---
What Happens When Islamists Take Power?
The Case of Iran
Elmer Swenson
Last Updated: 6-27-2005
---
Promises Before and Results After Khomeini's Islamists Took Over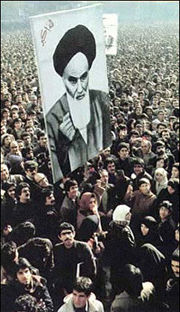 In the course of human history it's doubtful the politician has been born who didn't make promises he (she) couldn't keep, and that streak didn't end with the Ayatollah Khomeini. Still, anyone who witnessed the 1979 revolution that overthrew the Shah of Iran and replaced him with the Ayatollah Khomeini's Islamist Republic, has to be struck by how little it has to show for itself. This was the first Islamist takeover, the most promising (in an old civilization and a resource-rich state), and the most successful (the only Islamist regime still in power). [0.5] Yet 25 years after the massive, joyous, hope-filled crowds filled the streets, not only have bedrock principles and sacred promises (e.g. strictly Islamic government, an end to dictatorship) fallen by the wayside, some conditions that led to the Shah's downfall (e.g. corruption, political repression) have actually gotten worse under the mullahs.
What makes the Islamic Revolution in Iran worth a second look is the possibility that its history will repeat itself elsewhere. The Middle East has more than a few regimes resembling the Shah's government (corrupt, undemocratic and repressive), and plenty of Islamic opposition groups similar to the Islamist network that overthrew the Shah (well-organized, determined, and prone to making big promises with vague specifics).
What did Khomeini say life would be like for Iranians under his Islamic government after the revolution? How did it compare with what he and his followers said and did after? Some highlights: (Click on the hyperlink titles below for more detailed explanations and references.)